December 12, 2006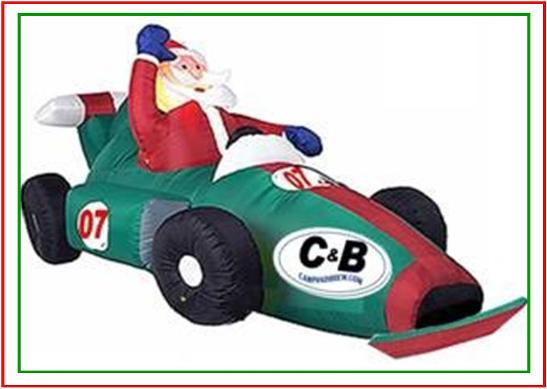 'Twas the night before Indy, all near the 4th turn
Not a race fan was sleeping, midnight oil they burned;

The empty kegs were set by the RV with care,
In hopes that Tom Carnegie soon would be there;

There were beer cans nestled all over the place,
Lots of inebriated fans anticipating The Race;

Visions of Tenderloins danced in each head
After the race, would be time for a bed;

On track dogs and Long's the fans did they gorge,
Thinking of IMS and that great family George;

With babes in their shorts, and us in T-shirts,
We had just fallen over, all covered in dirt,

When by the Pagoda there arose such a clatter,
We'd wished we had brought an enormous tall ladder.

Away to the fence we flew so darn quick,
Peeking through with bleary eyes, briefly forgetting our chicks.

The moon on the breast of the track it did shine
Gave the luster of mid-day to the main straight so fine,

When, what to our wondering eyes should be seen,
But a miniature racer, and his tiny race team,

With a little old driver, lively and singing a tune,
We knew in a moment it must be Harroun.

More rapid than Dallaras his coursers they came,
And he whistled, and shouted, and called them by name;

"Now, Emmo! now Helio! now, Foyt and Mears!
Andretti, on, Unser! Drink down those fine beers!

To the top of the flag stand! And over the soft wall!
Now dash away! dash away! dash away all!"

As plastic bags that during the race do fly,
When they meet with a rear wing, mount to the sky,

So up the Pagoda the coursers they flew,
With the hauler full of spares, and Ray Harroun too.

And then, in a twinkling, We heard from up there,
The revving of Honda's, both primary and spare.

As we drew in a breath, marveling at what we had found,
Down to Gasoline Alley, Harroun came with a bound.

He was dressed all in Nomex, from his head to his shoe,
And his car was sponsored by the Camp and the Brew!

A bundle of memorabilia he had flung on his back,
And he looked like a peddler just opening his pack.

His wickers -- how they twinkled! His side pods how shiny,
His helmet was awsome, the chicks liked his hiney!

His competitive mouth was drawn up in a grin,
And you could tell he was about to gift someone a win;

The bottle of milk he held tight in his fist,
He laughed when he thought how Marco just missed;

He had a broad face and two short little legs,
We hoped and prayed he'd leave us another full keg;

He was not chubby or plump, but a right jolly old man,
And we marveled when we saw him, each one of us a fan;

A flash of his winners ring, a twist of his head,
Soon gave us to know we had nothing to dread;

He spoke not a word, and his job he did fast,
And filled all the stockings; saving just one for last,

Giving RM a lump of nasty black coal,
We knew he's a true fan, right down to his soul;

And laying his finger aside of a fuel hose,
Then giving a nod, up the Pagoda he rose;

He sprang to his mount, to his team gave a yell,
And away they all flew, accelerating like Hell.

But we heard him exclaim, ere he drove out of sight,
"Happy 500 to all, and to all a good-night."
Merry Christmas from the crew of Camp and Brew!
*Poem by Tommy DaComic with apologies to Clement Clarke Moore